Livestock Load Bar Scales
Weighing Beams with Digital Readout
500kg capacity in 100 gram increments
Non Trade Approved
Load-Bar System consists of two low profile weigh bars, with a digital weighing indicator display. The units ease of portability and built in rechargeable battery, make this a truly portable and flexible weigh system. This system is commonly used for livestock weighing. Simply place the load bars under an exising squeeze chute or platform and you're ready to weigh.
30% Discount off our RRP of $965.00 Now $675.00
Features
500kg maximum capacity with 100gram readability
Lightweight and Portable Weigh Bars w/ Digital Readout
Bars are 80cm Long x 8cm Wide x 8.4cm High
Quick Connect Cables
Two Adjustable Leveling Feet under each Load Bar
Rechargeable Battery Operation ideal for portability
Up to 40 hours on a single charge
LED Digital display indicator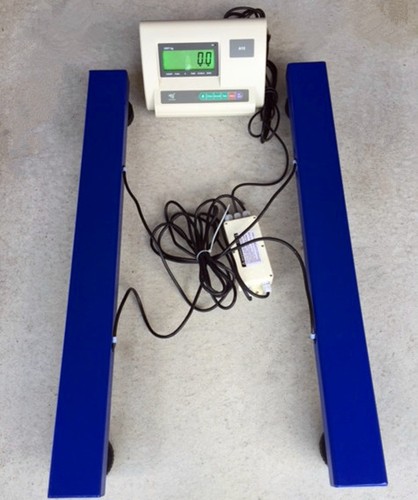 $675.00
All prices are inclusive of 10% GST
Delivery $75.00
Animal & Platform Scales
You can turn an existing pen into a livestock scale simply by bolting the two weighbars under it and connecting them to the indicator.
Your livestock scale can be large enough for a group of animals or it can be built for a single animal.
Factory & Warehouse Applications
Fabricate your own platform out of steel, aluminium or simply a wooden pallet as shown in the photograph to make a fully function weigh scale system.
Common applications for this fully portable scale system are under conveyors, tanks, and hoppers. It is also ideal for long lengths of pipe or other difficult to handle materials.
A platform scale is one of the easiest scales to build.
This highly portable and unique scale system is designed with simplicity in mind.
In just a few minutes the entire scale is setup and ready to weigh. The system includes two weigh beams manufacturered from ALUMINIUM. Each Weighbeam has 15' of load cell cable. This scale system is made complete with an Rechargeable Battery/AC powered digital indicator.
LIGHT WEIGHT & PORTABLE:
Easily positioned to weigh a large variety of items. Convenient to store when not in use.
BATTERY or A/C OPERATION:
Complete portability is guaranteed with the built in rechargeable battery. The system will operate up to 40 hours on a single charge. The battery continually charges while the scale is plugged into a standard 240v outlet..
ALL WEATHER USE:
The all ALUMINIUM construction of the load bars has been proven for years of field use. This system is designed to withstand continuous outdoor use.. Their are no moving parts to wear out, and no costly maintenance. Our weigh beams will give you years of trouble free service.
LOW PROFILE:
Standing at 11cm high and supplied in pairs. Total capacity of one pair of weighbeams is 500kg.measured in 100 gram increments.
Each weigh beam is 80cm long and 6.5cm wide.
PUSH-BUTTON TARE:
Simple one button Tare provides for the acquiring of the tare.